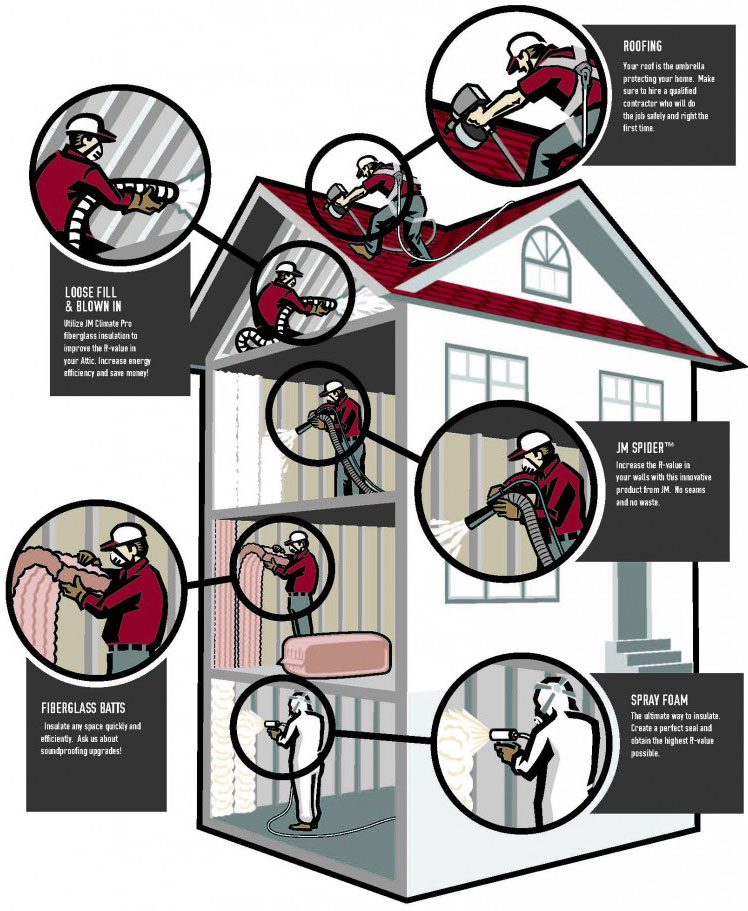 ALBERTA'S INSULATION & ROOFING EXPERTS
IDEAL Insulation & Roofing is a 2nd generation family run contracting business and a leader among Calgary insulation companies. We have upheld a longstanding commitment to service and quality since our founder open his doors in 1979. It's this pursuit of quality that has helped us grow into one of Alberta's leading insulation contractors. Our focus is on new residential construction and the renovation market here in Alberta, with roofing being a key component of our business since 1984.
We are a fully integrated insulation company and roofing contractor that offers a unique mix among Calgary insulation companies. The roof and attic are the umbrella of the home protecting it's contents and regulating it's comfort. Leaks and moisture problems are a break down in your shelter. Their source can often be difficult to find. Our experience in diagnosing and solving roofing and attic issues provides an encompassing perspective and the resources to address in either arena.
Services:
Our clients include Drywall contractors, Home Builders, Renovators, Property Management firms & the Home owning public. You've seen our crews help construct new neighborhoods in the greater Calgary & Edmonton areas; including High River, Okotoks, Turner Valley, Black Diamond, Chestermere, Strathmore, Cochrane & Airdire as well as Leduc, Sherwood Park, St. Albert, Spruce Grove & Stony Plain. We're working across these cities every day criss-crossing from new residential developments to multi-family projects to private renovations.
When considering the plethora of Calgary insulation companies please consider the benefits we offer. Our longstanding track record of service, the caliber of and our tenure with our major clients, the experience and dedication of our staff and our underlying culture of doing things the IDEAL way. Together these factors combine to offer you a trusted option in choosing an insulation & roofing contractor here in Alberta.
Bay 9, 9151 44 Street SE
Calgary, AB T2C 2P7
4726 76 Ave NW
Edmonton, AB T6B 0A5
Worried about the up-front costs? We have options!